Charming Xiamen
Tegoo hotel lies in Lujiang Road, the prosperous commercial and tourist canter of Xiamen City. It near the Zhongshan Road Pedestrian Avenue and overlooks the beautiful scenery of Gulangyu Island. The famous Xiamen University, Nanputuo Temple with a long glorious history and Island-Ring Road with beautiful landscape is an inch distant.
Xiamen is located in Southeast China, facing Taiwan Island to the east across Taiwan Strait. On the western coast of the vast Pacific there lies a place that miraculously blends local folk traditions, naturalized landscape and evolving modern urbanity. This is Xiamen, a city of gardens and contrasts. Xiamen won "Nations in Bloom 2002" award for its most livable environment.
Gulangyu Island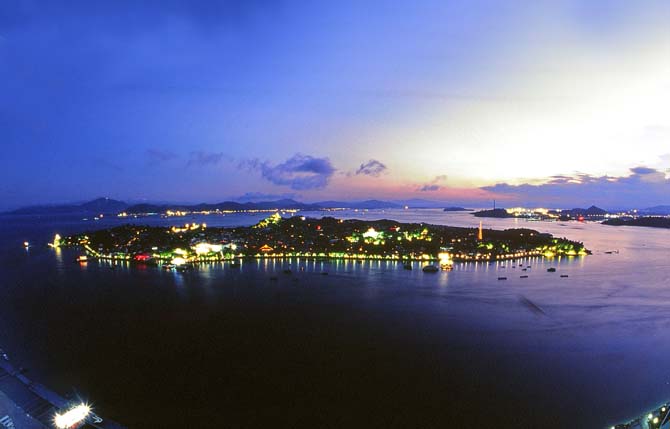 Gulangyu Island, a small island in southwestern Xiamen, covers an area of 1.78 square kilometers, and is known as the Garden on the Sea. It is surrounded by the sea, and has beautiful landscape. In 1988, it was listed as one of the state-level scenic spots. It is the only "on-foot" island because there are no vehicles. Many residents on the island are music fans and play musical instruments, and many Chinese-famous musicians were born here; hence its name the Island of Music. Because of the special period of history, the buildings on the island are of a great variety. The island may be rated as Museum of "Ten-thousand Nations' Buildings". The main scenic spots on Gulang Island are: Sunlight Rock, Shuzhuang Garden, Bright Moon Garden, Yuyuan Garden, Xiamen Museum, Road around the Island, Zheng Chenggong Memorial Hall,and so on. The hotel overlooks the beautiful scenery of Gulangyu, only 5-10 minutes walk to the ferry. Gulangyu is accessible via an eight-minute ferry ride which departs every 15 minutes.