Guest Room
The hotel boasts 315 guest rooms with elegant decoration in neo-classical and post-modern fashion.
The top grade facilities featured offer you a cozy comfortable environment. The open bathtub in guest rooms make you joy in bathing. At the same time challenging your acceptance toward fashion tide, 300 pin high density cotton bedding, Pillow Menu, and shape memory mattress made with the latest ergonomics enable you a healthy and comfortable sleep. Furnished with 40"LCD TV, 100" projector screen (in Tegoo suite) and 360º revolving TV-set in different room types, we can afford you a pleasant vision party. Meanwhile, the central air-conditioning keeps your room comfortable for it heats by nature wind and increases the humidity in the air.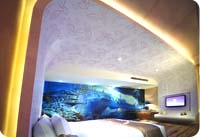 Respectively featuring the subject of the sea, desert, the universe and forest, These 35 sq.m rooms elaborate the characteristic wall paintings by well-known local artists. You will find the boutique room so much impressive for it is beyond your imagination.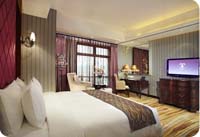 The comfortable 45 sq.m room with a Mable bathroom offers you a home like environment .Standing at the window gazing into the distance, you would have a panoramic view of the gorgeous Xiamen city.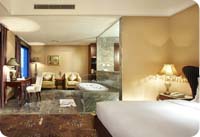 A 45 sq.m features the spectacular sea view and an open bathtub. You can watch TV or admire the magnificent sunset while enjoying your relaxing bath.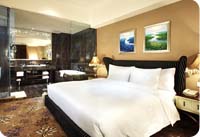 You can appreciate the wonderful city view in this 70 sq.m Deluxe suite furnished with two 40"LCD TV. The private sitting room offers a cozy surrounding to entertain visitors.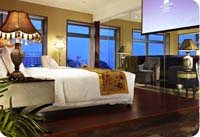 Tegoo suites are the pride of Tegoo Hotel. The 85 sq.m suite features a sitting room with a sea view, a master bedroom, a private bathroom, an open bathtub and a bathroom for guests. The 40"LCD TV in the sitting room and the 100"projecter screen in the master bedroom afford you a spectacular vision. You can enjoy the first sunlight or the sunset while sipping tea on the comfortable armchair.