Our Culture
Our Story
The name of the hotel "Tegoo". cherishes the memory of historic area.
If you stop at the front gate, you will notice the reliefs on both sides. The one on the right, like an old photo, portrays the Taikoo wharf a century ago; the one on the left presents the prosperous Lujiang Road where the Tegoo Hotel is located. Tegoo Hotel, adjacent to the ferry and facing the picturesque Gulangyu, was located in the century-old Taikoo wharf. According to the city history, the Peace wharf today located in Lujiang Road was formerly called Taikoo wharf, first built by the British firm Swire. The work on floating bridges started in 1867 and the new Taikoo wharf, where two 4000-ton ships could berth at the same time, was completed in 1935. The Taikoo name was changed to "Peace" in 1958. The memory never leaves. The name of the hotel originated from the local investors' memory of the place and the hope for the future.
A mini sculpture of pseudo-classic architecture which was 200 years history of the red brick 5 rooms house of south Fujian province residential building, was build on the right side of front gate.
The red brick house residential buildings reflect a high taste of architecture, artistic value and abundant cultural connotations. From aspect of architectural forms, both strong traditional features of local residential buildings and overseas construction characters are reflected .It demonstrates a charm of a peculiar boutique art of old south Fujian province constructions.
Artwork
A harmonious blend of ancient and modern cultures with elegant art.
The jade piece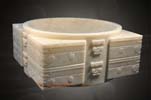 Guests can see in the lobby a rectangular sided jade piece with a round hole in the center. This kind of jade piece was used by ancient people as a sacrificial vessel when offering sacrifices to ancestors.
The piece was designed and created by the sculptor Xihuang Wu with a piece of white jade from Iran. It is 61cm high and weighs 3 tons, with the 16 totem of ancient China on the surface.